Hail Damage Repair Tips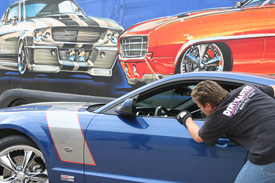 Due to the recent hail storm in the area, Dent Masters will be assisting in the direct repair of the hail damaged cars and trucks at the request of the major Insurance companies. For more information on what to do after recieving hail damage to your car or truck, please visit our webpages Hail Damage Repair and What is PDR?


Top 3 Hail Damage Repair Questions:
1. Is it more than my dedectible?
Yes, the average hail repair claim is between $2500 and $3500.
2. Will my rates go up if I make a claim?
No, hail damage is considered an act of nature and does not count against you and it is against the law for the insurance companies to raise your rates by making a hail damage claim.
3. Can you help with my deductible?
Yes, in most cases we can waive collecting your deductible as long as it does not exceed $500.

PDR and Hail Claim Tips
1. Contact your claims department at the 800# located on your insurance card and schedule an appointment to have your vehicle inspected ASAP. Do not contact your agent, that only slows the process down and their job is not to handle claims anyway.
2. Clean your car or truck prior to having it inspected, so that the damage can be seen easier by the adjuster.
3. Find out if you have rental coverage and how much they pay per day.
4. Don't worry about whether you need to shop around to get someone to repair the hail damage on your vehicle for the amount of the check the insurance company wrote you, focus on finding the best company to repair your vehicle, especially when the repair will cost you absolutely nothing out of pocket if repaired by Dent Masters and the insurance company will pay 100% regardless of any deductible as long as it does not exceed $500.00.



Insurance companies have 2 goals when inspecting your vehicle:

1. Inspect your vehicle and give you a check and some paperwork to take to the repair facility, in order to get the repair process started.

2. This part is very importatnt. Most of the time the insurance companies usually under value the amount of the repair costs by up to 60%, hoping that you take the money and never get the car repaired, therefore saving the insurance companies a great deal of money. The insurance companies will pay the actual amount required to restore the vehicle back to it's original condition, but only once it has been dropped off for repair at the repair facility. This is a normal procedure and it's something we have 19 years of experience dealing with.




Be cautious of any company not working off of the original insurance paperwork!

Why? Now that the insurance companies have gone mainstream with the Paintless Dent Repair process they guarentee any repair that requires PDR according to their estimate and by working off the original estimate the company is working directly with the insurance company so that if there is any problem the insurance company will take care of it, even years later. If you use a company that does not work off of the insurance estimate and they just give you a price, then if something goes wrong or does'nt look right then there is no one to back it up if something needs to be painted or replaced now or in the future.
At Dent Masters we look forward to
the opportunity to earn your business!